Fact checked by Steven Lines, lifelong Hunter and Outdoorsman
.
Hunting for a hog with a bow and arrow is an exhilarating experience. These animals can be fast and powerful. Plus, once killed, they can be harvested for meat. But, before you can celebrate the spoils, you first need to understand how to hunt for hogs with a bow. 
The key to successfully bowhunting for hog is hitting it in the right place. You'll need to hit between the shoulder blades. This is where the vital organs are located. You'll require a broadhead that will be able to do a lot of damage and leave a long blood trail. 
Having the right skills will make a difference between a successful hunt and a dull expedition. But how can you attract a hog? What arrow will give you the best chance of killing one? Let's look at everything you need to know to start hunting hogs with a bow.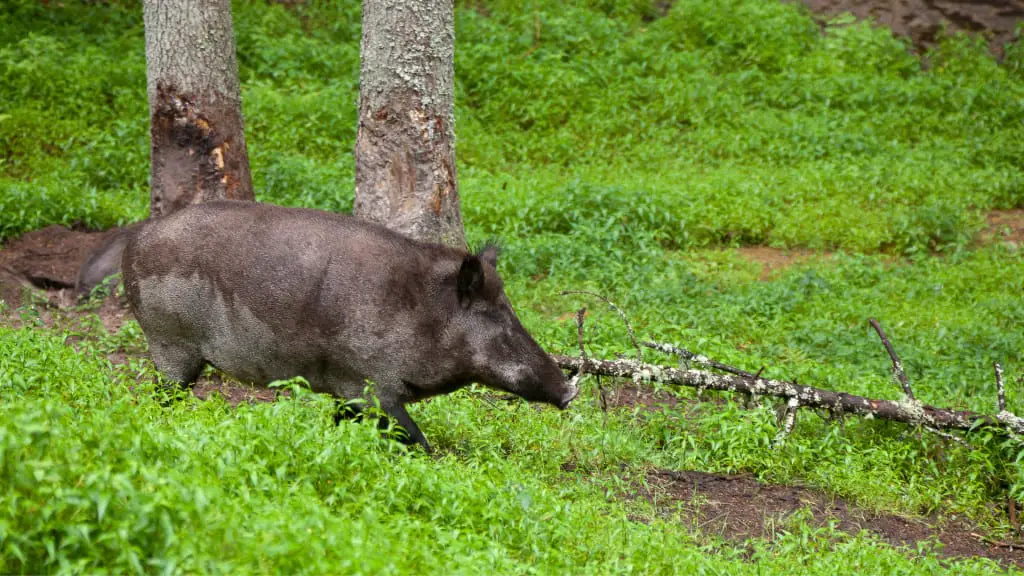 Where Should You Hit a Hog?  
This animal is covered with thick skin. If you hit it in the wrong place, you will be doing minimal damage. Many deer hunters have been trained to aim for the guts. However, on hogs, the vitals sit further up. They will be around the shoulder blades.
 To make things even harder, this area will typically be protected by a thick layer of cartilage. This develops when two hogs have been involved in a fight. 
Here's what you need to do when lining up your shot. Wait until the hog starts to quarter away. As it's doing this, aim for the far leg. This should tear through the shoulder, rupture the lungs and possibly slow the hog down. 
There are a few other places that you can aim for. You can try the neck. When done right, this will sever the spine and rupture the arteries. The other option is to try and get a head shot. If you hit the brain, the animal will be killed instantly. But this can be difficult. Hogs, though intelligent, have a small brain
. There are tales of hunters that landed a headshot but didn't manage to kill the hog. 
What Equipment do You Need to Kill a Hog? 
If you're going after a large animal, like a hog, you need to make sure that you have the right equipment. First, and most important, is the bow. You'll need to get something that has a high draw weight. This will let you put plenty of force behind each shot. You can consider using a mechanical release. This will make it easier to reach full draw. Get familiar with your bow. To kill a wild hog, you'll need to be an accurate shot. 
The next thing that you'll need to do is get the right arrows. You'll need something tough enough to get through the thick hide of the hog. Often, this means needing to purchase a heavier arrow. Once in the skin, you'll want to do a lot of damage. In an ideal world, it will be enough to kill the animal instantly. This article
 goes into more depth about the best broadheads to use when hunting for hogs. 
Hogs have very sensitive noses
. If they smell you, it could be enough to make them turn and run. There are a few ways that you can avoid this. First, you'll need to set-up your stand downwind. A portable wind checker will tell you what direction the wind is blowing. It's a good idea to use spray products on your clothes that illuminate your scent. 
Be prepared for a long chase. Even if you landed a good shot, the hog is a powerful animal. It might take a while for it to go down. This is why a good broadhead is so essential, and it will leave a blood trail for you to follow. While you're chasing it down, keep your guard up. Some hogs have been known to get aggressive. If they charge, and you can't get out of the way in time, there is a strong chance that you will be injured. 
What Restrictions Will You Face When Hunting Hog? 
Before you start bowhunting, check the local regulations
. If you don't, you risk getting a sizeable fine. Often, there will be rules over the areas that you can hunt. In most states, there will be a minimum draw weight that you will need to use. Generally, you'll want a draw weight of over 40 pounds. There can also be restrictions on the type of bow that you will be allowed to use. 
As long as you are on private property and have the right type of bow, it's fair game. There is no catch limit
. You will be able to harvest both male and female hog. You will be able to hunt for wild hog all year. Hunters are allowed to trap and release hogs as long as they don't release them onto public land. If you don't own the property, you might need to have written permission from the owner. 
If you are on public land, there will be several restrictions that you might need to follow. You might need to get a management area permit. There will be limits placed on the number and size you can catch. Often, there will be hunting seasons. Often, during small game season, you will be allowed to hunt hogs. But it's worth checking in with the management and seeking clarification. 
Where Can I Find Wild Hogs? 
Once you've got the gear and have read the rules, it's time to start hunting for wild hogs. There's just one problem. You need to find them first. There are a few steps to attract hogs. First, you'll want to go for a walk through your property. Look for signs of recent hog activity. This can be things like disturbed soil or animal tracks. There can be tusk masks in the undergrowth. Check for signs that they have rubbed themselves against the trees. 
Once you've found a good area, set-up a corn feeder; this will hang from the tree. Usually, you'll want the feeder to disperse one pound of corn a day. This video shows you how to make a feed that will attract hogs. 
Every few days, check for signs of activity. This tells you that the local population is still active. Leave the feeder for a week. This will make sure the hogs are comfortable in the area. 
Another way to attract hogs is using wire to wrap saplings around the base of a tree. Then get a burlap sack and cover it with motor oil. Hogs love to rub themselves against these posts as the oil forms a natural insecticide. Set-up your stand to give you a clear shot of the rubbing post. In some cases, these will prove to be more popular than the corn. 
The hogs come out at night. To help you see them set up a red or green light. The hog won't be able to see these colors. But they might still be able to spot movement, so you want to stay still. When you're ready, take the shot. 
Final Thoughts
If you want to hunt a hog with a bow, there are few precautions that you'll need to take. It's worth taking a few days to get your bow set-up and get the right arrows. You'll also want to prepare the area with corn and oily sacks. By doing this, you will give yourself the best chance of a successful hunt.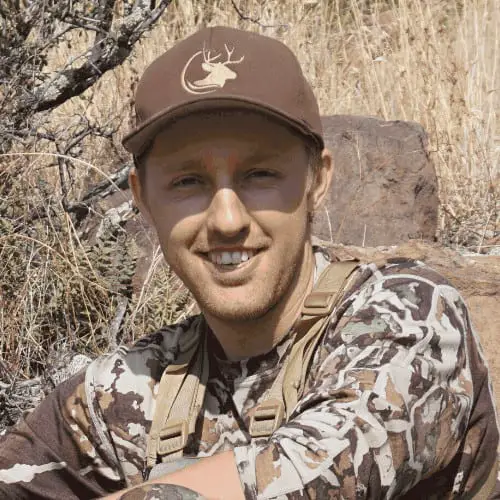 Steven Lines is a hunter and outdoorsman from Safford, Arizona, USA. Since a child, he has been hunting and fishing and has over 20 years of experience in the outdoors. Steven works as a hunting guide in Arizona during his spare time and runs a Youtube channel
 dedicated to sharing his outdoor adventures with others.
Was this article helpful?