Fact checked by Steven Lines, lifelong Hunter and Outdoorsman
.
Archery is a timeless sport dating back thousands of years. Back then, we didn't have big shotguns and tanks to power through nature. Hunters had to make do with bows and arrows, and their physical prowess. 
Archery requires some degree of physical fitness to operate efficiently and safely. Speaking of which, how safe is archery?
Provided you follow the rules of archery, it is one of the safest sports you'll ever play. In fact, experts at the National Safety Council found that archery is three times safer than golf. 
This may sound like an oxymoron because you're not running around shooting stuff in golf, which you are in archery. Here are a few statistics that demonstrate just how safe archery is:
Less than 1 in 2000 participants are likely to get injured in archery compared to the 1 in 625 in golf.
Soccer and basketball have a 20 to 45 times higher injury rate than archery.
The majority of injuries caused due to archery (about 94 percent) are caused by hunters who often cut themselves with dangerously sharp arrowheads, which aren't allowed in many archery ranges anyways. The second most common injury is caused by the bowstring as it slaps against the wrist, which can really hurt if you're not careful.
But this can be prevented with the use of proper personnel equipment and following the rules. To date, no injuries have ever been caused to bystanders at archery ranges. Which means you'll really have to go out of your way to getting injured with a bow and arrow (or hurt someone). When someone does get injured due to archery, it's because they practice in unsafe areas such as backyards without proper fencing.
Most regulatory bodies prohibit the use of a bow and arrow in backyards, parks, and public areas unless they are specifically designated to be an archery range. 
Archery ranges, whether private or public, carry insurance in case of accidents. In many cases, the insurance premium for archery ranges is the same as insurance for golf, handball, and even badminton. 
It's just not a good idea to practice archery in your backyard unless you absolutely know what you're doing. All it takes is one stray arrow to cause serious harm to an innocent bystander. And once the arrow has left the bow, it is no longer under your control. If a stray arrow should end up on someone else's property (or worse hitting them), your home insurance might not be able to cover any liability issues. 
Moreover, it could land you in legal consequences for 'discharging a firearm.' This is why it is much better to practice archery in a safe environment, such as an archery range. 
The Body Training is supported by its audience. When you purchase through links on our site, we may earn an affiliate commission, at no additional cost to you. Learn more
How to Do Archery Safely 
Safety in archery totally depends on how you use the equipment and if you're wearing safety guards while shooting arrows and bolts. Just because archery is safer than golf (which is the furthest thing from danger), doesn't mean you can afford to be lackadaisical. All it takes is one stray arrow to cause all kinds of damage. 
Here are all the safety rules you should practice before getting into archery.
Wear Your Arm Guards
An armguard protects the arms from damage while you load and shoot your arrows. If worn correctly, the arm guard will prevent the string from hitting your arm. Anyone who's used a bow before will know just how much it stings to get slapped by your bowstring. Aside from looking really cool, arm guards also prevent your jacket sleeves and shirt from getting in the way of firing an arrow. 
Recommendation: KRATARC Arm Guard
This adjustable arm guard is lightweight and scratch-resistant. It comes with three adjustable straps to fit most sizes. It is designed for the specific purpose of protecting your forearm if it gets hit by the bowstring. 
Click here
 to check prices. 
Suitable for:
✅Recurve bows
✅Longbows
✅Compound bows
Use an Arrow Rest for Shooting 
An arrow rest comes in handy when shooting arrows, especially when you're working with a compound bow. Chances are, your compound bow already comes with an arrow rest extension. In which case, make sure to use it. The arrow rest eliminates the need to hold the arrow in place manually. Not only is this much safer for your hands, but it will leave you free to adjust the bow with far greater precision. 
In addition, arrow rests help arrows take a straighter flight. In fact, if you're a beginner and still learning how to use a bow and arrow, make sure to use an arrow rest to get up to speed quickly. 
Recommendation: Ripcord Code Red Arrow Rest
This neat device is made with durable and lightweight aluminum. It comes with internal dampeners that will make for more silent shooting. The launcher is designed to disengage at full draw for precision shooting instantly. 
Click here
 to check prices. 
Suitable for:
✅Recurve bows
✅Longbows
✅Compound bows
Use a Release Aid – Discussing all Release Aids (with product recommendations) 
Release aids are designed to help you correctly let go of the bowstring at full draw. This is a crucial moment before firing your arrow where all the energy stored in the limbs is transferred to the arrow, which is then propelled downrange toward the area where you're aiming. Every archer should strive for a 'clean release' on all their shots. In fact, you'll find that a clean arrow will improve your overall score and accuracy.
There are many types of release aids available for archers, and it can get quite a bit confusing to choose the right one. If you're using compound bows, there are four types of release aids you'll come across, thumb trigger, back tension, resistance activated, and index finger release. For longbow and recurve archers, there are special gloves and finger tabs. 
Index Finger Release 
Index finger releases are mechanical release aids that are triggered primarily by the index finger. They will be attached to the wrist strap that aids in drawing the sting by joining the muscles of your hand and arm. They are most popular with bow hunters because of ease of access. Furthermore, it's next to impossible to lose the index finger because it's connected to the wrist at all times. 
Recommendation: Index Finger Release by OdenBall
At only 4.5 grams, this quick and durable index finger release allows you to hit targets with robotic precision. It is waterproof and effortless to use. The best part is that it comes with a two-year warranty. 
Click here
 to check prices on Amazon.  
Suitable for:
✅Recurve bows
✅Longbows
✅Compound bows
Thumb Trigger Release 
As the name suggests, these releases will be triggered by the thumb. They can be found in two variants: attached to wrist straps and handheld. They connect to the D-loop on the bowstring with the help of enclosed jaws, a rope loop, or an open hook. 
Many 3D competitors use thumb triggers to aid with back tension release and retain control of the release.
Recommendation: Tru-Ball Fixed Head Thumb Trigger Release 
At only 3.2 ounces, this thumb trigger features a lot of safety features, including finger bed grooves and a jaw to minimize D-loop torque. It also makes it possible to shoot your arrow silently. It also features all-aluminum construction for durability. 
Click here
 to check prices on Amazon.  
Suitable for:
✅Recurve bows
✅Compound bows
Hinge Release
The hinge release is a handheld release with a pivoting head that connects to the D-loop via an open hook. It does not have a trigger and is activated by a slight backward rotation of the release. Hinge releases are not ideal products to us with bow hunters who typically need to retain more control over their arrow upon release. 
Recommendation: Tru-Fire Sear Hand-Held Hinge Release
This hinge release is designed for younger archers who are just getting started. It features variable click options with adjustable thumb pegs. Furthermore, it comes with a magnetic hook hold to keep the release closed with not shooting. 
Click here
 to check prices on Amazon. 
Suitable for:
✅Recurve bows
✅Longbows
✅Compound bows
Resistance Activated Release
This handheld release is primarily used by target archers. It is a tension activated release. It is very similar to the hinge but comes with a built-in safety mechanism that makes it possible to draw the bow without accidentally firing it. 
Recommendation: Carter Evolution Release Aid 
This product comes with a rather steep price tag but is the perfect safety device. In order to release the bow, simply hold the safety down while pulling back. 
Click here
 to check prices. 
Suitable for:
✅Recurve bows
✅Longbows
Gloves and Finger Tabs
Individual styles of archery require drawing and releasing with all fingers, as opposed to mechanical triggers. Moreover, mechanical releases are not allowed for use with longbows and recurve bows in competitions. A finger tab lets you draw the bowstring with your middle, ring, and index fingers. The tab sits between the string and fingers. 
This makes it possible to consistently release the arrow because the string slides off one surface rather than each of the three digits. 
Recommendation: Leather Archery Finger Tab
This finger tab comes with a rustic leather design that not only looks good but is extremely durable. Moreover, the stitch is carefully hand-cut and handcrafted using high-quality full-grain leather. This product is a work of art by handcrafted by expert artisans from Guatemala. 
Click here to check prices.
Suitable for:
✅Recurve bows (check competition rules)
✅Longbows
✅Compound bows (check competition rules)
Use Arrows of Proper Length
Determining the proper arrow length is paramount to the archer's safety. Many beginners either overestimate (or underestimate) the length of the arrow. Using the wrong sized arrows can be dangerous to you, the innocent bystander, and even your bow. 
Without going into too many details about the arrow length, you should use arrows that are long enough to go beyond the back of the bow. 
Use smaller arrows only if you are a professional and while you're wearing all the safety equipment. 
Recommendation: Tiger Archery 30 inch Carbon Arrows
This collection of arrows measure 30 inches with 0.309 inches diameter. The total draw weight is between 40 to 60 pounds for recurve, compound, and longbows. These arrows are designed to point the right direction when they take flight. They can be reused over and over again for a long time, making them ideal for target practice. They also feature replaceable nocks to ease of use. 
Click here
 to check prices. 
Suitable for:
✅Recurve bows
✅Longbows
✅Compound bows
Never Dry Fire Your Bow
This is a beginner's mistake that can be harmful. Dry firing is dangerous for you and the people around you, not to mention the damage it will deal with your equipment. That piece of bowstring can strike you back with tremendous energy.  
The main reason why it is so dangerous is that all that pent up energy in the bowstring has no place to go. But that energy still needs to go somewhere, right? So it ricochets back to the bow, creating powerful vibrations that can cause catastrophic damage to both you and the bow. If the quality of the bow were compromised, to begin with, it would likely shatter. 
This can lead to a bunch of bad things, such as:
Bent cams
Broken bowstrings
Splintered limbs
Destroyed cable guard
And here's the dangerous bit: if the bow splinters off, the pieces will come flying back at you and will likely knock you out. The worst-case scenario is that it will cut your face and even get into your eyes. The flying pieces also pose a danger to those standing near you as they are also exposed to flying debris. 
If you want to dry fire your bow, take it to a professional instead.
Inspect Your Equipment 
Before you take your bow for play, it pays to inspect it for readiness. Start by ensuring that the laminations on the bow are not separating or flaking. Also, make sure that the strings on the bow are not fraying either. In the case of compound bows, make sure the cables and pulleys are in good operating condition.
The arrow's spine (thickness of the arrow's shaft) should be compatible with the bow's draw weight. If the bow's draw weight is higher than what your arrow can handle, the arrow will either break as you release it or fly off in a random direction. 
Conclusion
So there you have it, the complete guide to archery safety. All the essential safety bits you need to know when firing arrows. Don't ignore minor safety things such as putting out ropes to signal everyone that you are practicing archery there or pointing the arrow toward the ground while nocking. A bow is a lethal weapon and is just as fatal as a handgun.  
Finally, during your visit to the archery range, pay close attention to your instructor, and never disobey their orders. 
Do You Need A License For An Archery Bow?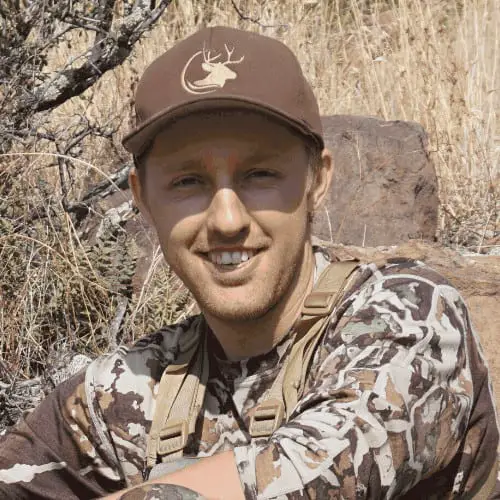 Steven Lines is a hunter and outdoorsman from Safford, Arizona, USA. Since a child, he has been hunting and fishing and has over 20 years of experience in the outdoors. Steven works as a hunting guide in Arizona during his spare time and runs a Youtube channel
 dedicated to sharing his outdoor adventures with others.
Was this article helpful?