If you hunt with a bow, you know that mechanical broadheads are some of the more complex projectiles you can fire.
Maybe fixed blade broadheads haven't been doing the job anymore, or you're tired of compensating too much for their unwieldy tips when planning their flight path.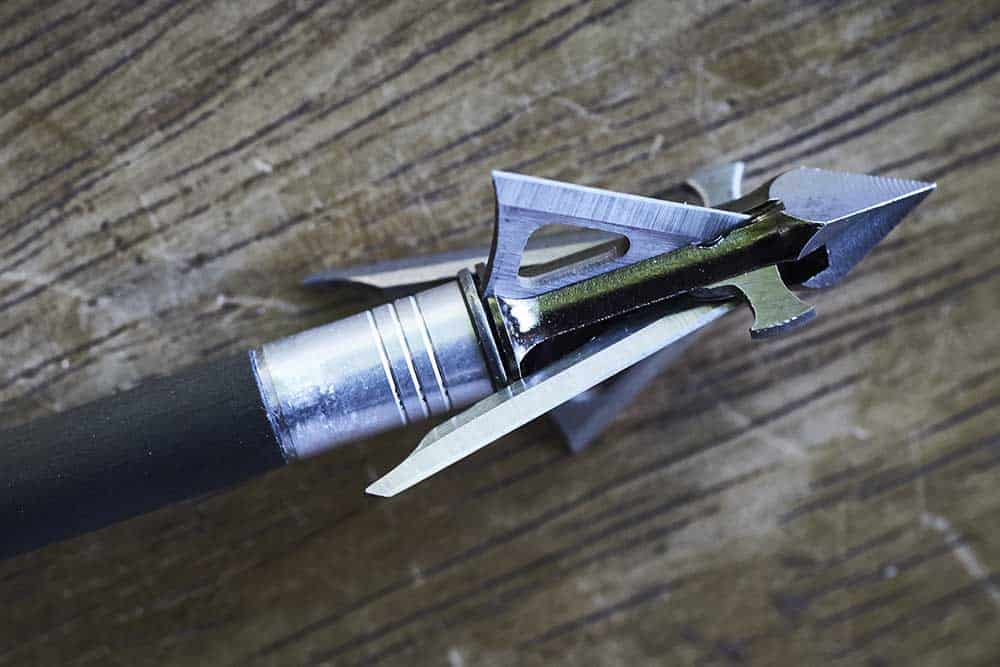 Whichever it is, you've decided to move onto mechanical broadheads, and you need to find some good ones.
A bad mechanical broadhead will perform much worse than a bad fixed blade shot. Mechanical broadheads usually operate by extremes.
In the hands of a trained bowhunter who knows what they're doing, mechanicals can be a full head and shoulders above the next broadhead.
If not, then you're shooting expensive pins that'll just bounce off or get stuck into your prey as they flee, stealing your broadhead, never to be seen again.
None of us want that, and that's why we're here.
Here is where you'll find several mechanical broadhead recommendations, each one having been reviewed so you have an idea of what you're buying and when you're buying it.
If you really are new to bowhunting and broadheads in general, we'd strongly advise you to check out our buyers' guide below.

Jumping straight to the point, first, we have the Rage Hypodermic broadhead.
Most bowhunters will know Rage already, and even their Hypodermic product line, as they're often what many hunters think of when they think of the mechanical broadhead.
There are a few reasons for that. They have a stellar reputation that's only helped by their Stateside manufacture.
Let's start at the point. There you see Rage's own exclusive Hypodermic broadhead design, a very sharp tip with distinct faces on each side so that it better separates hide and flesh when it does make contact.
It's also sharp enough to pierce the bones of most animals, though we'd advise you to be careful with elk and the like.
Then there are the blades, two wings that fan out into an impressive 2" cutting diameter. Rage is known for their blood trails, if you didn't know, and blade designs like these are why.
By entering and exiting the animal with a 2" hole boring through its body, you shouldn't have to worry about finding blood to track your prey.
Moving toward the end of the broadhead, you'll find an updated shock collar and the ferrule.
That shock collar has been improved to increase blade retention, which just means it stops the pressure and impact of arrow flight from damaging the blades as much as previous models.
This means your blades can survive more flights, allowing for the possibility of reuse.
The ferrule is made from one solid piece of steel, providing unmatched durability and guaranteeing the broadhead doesn't come off your arrows.
Unfortunately, these Rage Hypodermics don't come with practice heads. Does this mean you have to sacrifice one? Maybe, but it's not a necessity.
If you are a careful shooter who likes to test-run their newest toys, you may need to put more money where your mouth is by buying more to train with or buying a similar broadhead.
Pros
Rage-exclusive hybrid tip – Rage's surgical hybrid tip is back to pierce hide effortlessly and fracture bones, making full pass-throughs and incapacitations a more distinct possibility.
2" cutting diameter – Across two large fin-like blades, the hypodermic fans out into a 2" cutting diameter that unleashes the plentiful blood trails that the brand is known for.
Improved shock collar tech – An improved shock collar on these models safeguards the blades of this broadhead, allowing them to fight another day.
Aerodynamic, one-piece ferrule – Uses a steel ferrule that's been fashioned in one piece, minimizing potential break-off points to ensure this broadhead stays put on your arrows.
Cons
No practice heads – They don't come with a practice broadhead, making training with these more costly as you'd likely need to sacrifice one.
Sale
RAGE Hypodermic 2-Blade 100 Grain Broadhead with Exclusive Hybrid Tip, One Piece Stainless Steel Ferrule, Shock Collar Technology, .035" Stainless Steel Blades and a 2"+ Expandable Cut - 3 Pack

PRECISION - Rage broadheads are known for their accuracy and their wound channels are legendary
FEATURES - Aerodynamic one-piece steel ferrule, Tough, Razor Sharp .035" stainless steel blades, 2" cutting diameter, and 100 Grain broadhead, 3-Pack
TECHNOLOGY - Comes with improved Shock Collar Technology which ensures proper blade retention
Last update on 2022-12-03 / Affiliate links / Images from Amazon Product Advertising API

For our second recommendation, we need to take a look at the NAP Spitfire Maxx mechanical broadheads. There are two main things that stand out when first getting your hands on these broadheads.
First, they have an exaggerated tip that uses the field point accuracy of a mechanical broadhead but delivers massive damage when coming into contact with animal hide, cutting on contact.
Secondly, you'll notice those blades. If the angle of them when deployed didn't tip you off, they deploy from the front of the broadhead to properly cut and anchor your arrow into whatever you're hitting.
The blades themselves are made with diamize sharpening, where a cutting edge made of pure diamond is used to sharpen them to ensure they're as sharp as a metal can be.
All of these make for a broadhead that's great for blood tracking.
Between that exaggerated point and the very sharp blades tearing through prey, you've got a model that leaves large entry and exit wounds from which blood will spill.
That won't only take the animal out of the fight quicker but will also make it easier to track through the dense terrain.
Pros
Large tips for increased penetration – Whether it's tough to hide or you just plan on going right through your target, these Spitfires have a thickened cut-on-contact tip for doing just that.
Diamize sharpened blades – Front-deploying blades that have been honed on diamond edges offer impressive cutting power when coming into contact with prey.
Creates large blood channels – Due to both of the above, this mechanical broadhead is great for opening and cutting large entry and exit wounds into animals, making blood tracking easier.
Also available in 125-grain – While these ones are 100-grain, you can find these models in 125-grain too for those who prefer heavier broadheads.
Cons
Not very reusable – The stopping power and thin profile of this broadhead often mean it can get taken out of action if it hits something hard after passing straight through your prey.
Sale
NAP Spitfire Mechancial Broadhead 100 Grain Three Blade Cut on Contact 3 Pack

TOP-QUALITY BROADHEAD - The NAP's Spitfire Maxx front-deploying mechanical broadhead for bowhunting delivers reliable accuracy and trauma to drop your quarry right where it stands; This is a good choice for avid archers who are searching for great efficiency
1 3/4 INCH CUTTING DIAMETER - This New Archery Products Spitfire Maxx mechanical broadhead for compound bows features a 3-blade design - cuts a massive 1.75" diameter hole and penetrates deeply to provide ultimate efficiency
BLADES - The Spitfire Maxx bow hunting broadhead boasts three razor-sharp offset blades that deliver deadly results; Rock-solid reliability and renowned NAP quality make the Spitfire Maxx the perfect choice for game animals of all sizes
Last update on 2022-12-03 / Affiliate links / Images from Amazon Product Advertising API

As we move towards the end of our list, our next recommendation is also from Rage, though we'd say this one is better for those who want an even more fierce tip that's more suited towards stopping power than bloodletting.
You'll find that in the Rage Chisel-Tip 2 Blade broadheads. In truth, they share a lot of design similarities with their Hypodermic cousin, the primary difference being the point.
No, that's not the head of a drill. Though it may have a swirled point design, that's a chisel tip that's capable of turning bone to dust when in flight.
It's also thicker than the Hypodermic and other similar Rage products, so this is definitely the broadhead you want to reach for if you like Rage but like stopping power even more.
As for the blades, they function a lot like the Hypodermic.
There are two of them, acting like stainless steel wings, and when they make contact you can expect a 1.5" to 2" cutting diameter that makes blood easy to find once it leaves your prey through the other side.
When you find your arrow again, you may be surprised to see that Rage's shock collars are back.
These chisel tips have bone-breaking stopping power that could just as easily become blade-breaking in the wrong circumstances, so Rage has accommodated for this with their shock collar tech.
Pros
A bone-breaking chisel tip – Chisel tips have earned their stripes as bone-busters, and this Rage tip with its swirled, almost drill head-like design is no exception.
2" cutting diameter – Along with the Hypodermic, this chisel tip model is also capable of Rage's legendary blood trails when its 2" cutting diameter rips through your target.
Shock collar blade retention – With that extra stopping power, there's more danger of blade breakage. To compensate, Rage has included shock collars in this broadhead design too, so that you can reuse them.
Cons
Still no practice heads – As a Rage product, these broadheads also lack a practice head to cut your teeth with.
Sale
RAGE Chisel Tip 2 Blade Broadhead, 100 Grain with Shock Collar Technology - 3 Pack, Red, Model:65100

PRECISION - Rage broadheads are known for their accuracy and their wound channels are legendary
MASSIVE CUTTING SURFACES – Rear-deploying, SlipCam design with huge .039" leading-edge blade and razor sharp .035" thick stainless steel expandable blades. 2" cutting diameter.
TECHNOLOGY - Improved Shock Collar Technology ensures proper blade retention while arrow is stored and in-flight and allows for broadhead to open upon impact
Last update on 2022-12-03 / Affiliate links / Images from Amazon Product Advertising API
The final mechanical broadhead we're looking at today is the Swhacker SWH00207 broadhead, a popular and competitively-priced option that comes with a host of features.
It's a smaller mechanical broadhead, that much is obvious from looking at it and may disqualify it if you're a fan of heavy-hitters, but mechanicals like these are perfect for maximizing stopping power in lighter bow setups.
First, like any self-respecting mechanical broadhead, it introduces itself with a very hard tip. Fashioned from high-carbon steel, the point of this Swhacker model is to do what all good broadhead points do.
That'd get you through the animal's hide and, if your shot is placed right or you're just lucky, annihilate the harder tissues of the animal to incapacitate them.
That means powdering a shoulder blade or two to effectively end the hunt before it begins.
The blades on this mechanical aren't the main draw, we think.
There's only two of them though they make up for that with a 0.32" thickness and an impressive 2" cutting diameter, which are still great for smaller game and add some sharpness to a very impactful broadhead design.
The problem comes with larger animals where those two blades won't draw near as much blood as a blood tracker would like.
This broadhead is also quite reliable. Its ferrules are made from anodized aluminum.
Aluminum is known for its environmentally durable properties anyways but anodized aluminum ensures that they won't rust or degrade too much over time and stay firmly secured to your arrows for their lifetime.
Pros
Hardened high-carbon steel point tip – This mechanical broadhead maximizes damage and stopping power with the use of a very hard point, capable of breaking bones.
Two .032" stainless steel blades – These two small but thick blades present a 2" cutting diameter that's perfect for doing damage to small prey.
Durable anodized ferrules – Made from anodized aluminum, this is a mechanical broadhead that won't break easily or submit to the elements over time.
Cons
Barely any blood – If you're looking for a mechanical broadhead that draws a lot of blood, the thinner profile of this broadhead may leave you disappointed.
Sale
Swhacker SWH00207 #207 2 Inch Cut Broadheads Set of 3-100 Grain, Green, 2"
UNIQUE DESIGN: Provides you with two separate cutting edges.
WING BLADES: They take the most punishment by cutting through the hair, dirt, hide, and bones during entry. These are smaller than the main blade so they take less energy to penetrate through the first side than an "open on impact" broadhead.
MAIN BLADES: These second set of edges do not touch anything during the initial penetration. They still have "virgin" edges when they open in the body cavity. This allows the main blades to remain razor sharp for the internal organs.
Last update on 2022-12-03 / Affiliate links / Images from Amazon Product Advertising API
Buyer's Guide
Hunting the Best Mechanical Broadheads
Mechanical broadheads are often regarded as a more specialist tool than their fixed-bladed cousins.
This is because yes, they can be more expensive when all else is equal, and they have more going on under the hood, which can make finding the perfect mechanical broadhead a real chore.
That's why we've included this section, where we go through the main buying considerations for mechanical broadheads.
Whether you're new to these devices or you're buying for a specific reason, the subheadings below should cover everything you need to know.
Blade Count
Even if you're accurate with your bow, the blade count is going to affect how your arrow flies through the air.
Not only that but once your arrow makes contact, it's the number and size of blades that'll determine how much your prey bleeds. More bleeding means that the animal will drop quicker and be easier to track in the meantime.
There's an added risk with mechanical broadheads since more blades usually result in a more complicated mechanism, which can increase the risk of malfunction and failures to deploy.
Whether it's two or four blades, we'd say that it's more important that the broadheads are reliable and deploy consistently, which you can do from checking reviews.
Once you've identified a brand and product line you trust, you can buy the most bladed broadheads available if bloodletting is an important part of your hunt.
Tip Design
Even with mechanical broadheads, you have some say in how big the tip is.
A larger tip, and so larger blades protruding from it, are best when you want the animal to bleed a lot.
That'll put the animal down faster and make tracking it an easier task as that happens across the day.
You need a heavier bow, or even a crossbow, to reliably fire a larger mechanical broadhead and reap the most benefits, however.
A unique benefit of mechanical broadheads is their penetrative power.
When released and flying toward your target, the blades on them are retracted. This results in a direct and powerful flight that, if hitting the soft spot on an animal, can render them incapacitated near instantly.
Even with smaller tip sizes, which are much more suitable for lighter, hand-drawn bows, an expertly released mechanical can break bone with its chisel tip and then deploy blades to open the wound, draw blood, and cause maximum damage.
Durability and Weight
Mechanical broadheads are generally less weighty than their fixed-blade counterparts.
We've already mentioned above how the tip of a mechanical broadhead is more streamlined for most of its flight, and so they benefit from not having a hunk of metal fixed to them at all times.
However, in place of that hunk of metal is a mechanism that can malfunction, ruining a shot.
That shouldn't happen if you're a patient hunter who ensures every broadhead is prepared before your hunts, and afterward too if you plan on reusing any of the broadheads you've fired.
Like with fixed-blade broadheads, mechanical broadheads are available in a variety of grains so that you can have more stopping power behind your shots.
As a general rule, mechanical broadheads are capable of penetrating deeper into most animals if you know where to place your shots, but a 125-grain mechanical will do more impact damage on the way in than an 85-grain.
Price
It's a known fact that broadheads, and mechanical ones, in particular, can get expensive.
No matter what you're buying, it's a good idea to have a budget in mind so that you can know when a broadhead falls within your desired price range.
A higher price doesn't always come with a better quality broadhead, so we'd advise everybody to do their due diligence when buying.
If you're on a tighter budget than most, you should compare the features of your preferred broadheads to see which gets you more for less.
Also, remember that sometimes you'll pay more for the brand name attached to the broadhead than the quality of those broadheads themselves.
Frequently Asked Questions
How do you set a mechanical broadhead?
If you're completely new to mechanical broadheads, this might come in handy as a tip. You set mechanical broadheads by tuning them to your bow.
Mechanical broadheads are like field points so tuning them properly can be tricky.
What you want to do is make sure the arrow spine isn't too stiff, which is determined by factors like shaft size, length, bow and broadhead weights, and your form when holding, drawing, and releasing the bowstring.
There are many guides online that go into much more detail about this.
After a mechanical broadhead has been triggered and you want to reset it (assuming that's possible with your chosen brand and the broadhead isn't too damaged) then the safest way of doing that is using a broadhead wrench while wearing gloves for your own safety.
You should feel or hear when the blades retract properly, which is also when they won't pop back out when you remove your wrench.
Are mechanical broadheads legal?
Like with any legal question, it's a matter of when and where.
This means the best way to answer this question is to research your state and even county laws in regard to the releasing of mechanical broadheads from a bow.
There are commonalities between a lot of state legislations that do allow you to use these broadheads, as many dictate that mechanical release systems need to be hand-drawn.
In short, the mechanical broadhead should only be connected to the bow via the bowstring, and only drawn and loosed by hand.
Can you shoot mechanical broadheads into a target?
Practicing with mechanical broadheads can be expensive given how pricey they can get and the complicated spring-work that goes into them.
Fortunately, there are ways to practice. Some prefer to put an elastic band around the tip to safeguard the mechanism and practice with just the weight of the arrow.
Since the tips weigh less, mechanical arrows require less tuning. This means some will outright remove the tip for practice since it'll fly virtually the same anyway.
If you want to shoot mechanical broadheads at targets and have them activate, the safest way to do that is to have a few arrows you use for practice.
That way, you can practice with and degrade those broadheads while having fresh and sharp broadheads for the hunting trail.
Was this article helpful?