You can't not look cool with a crossbow – Norman Reedus
Most people would happily agree that life is far more enjoyable when you keep it simple and the easiest way to keep things simple is by having a set of rules to follow.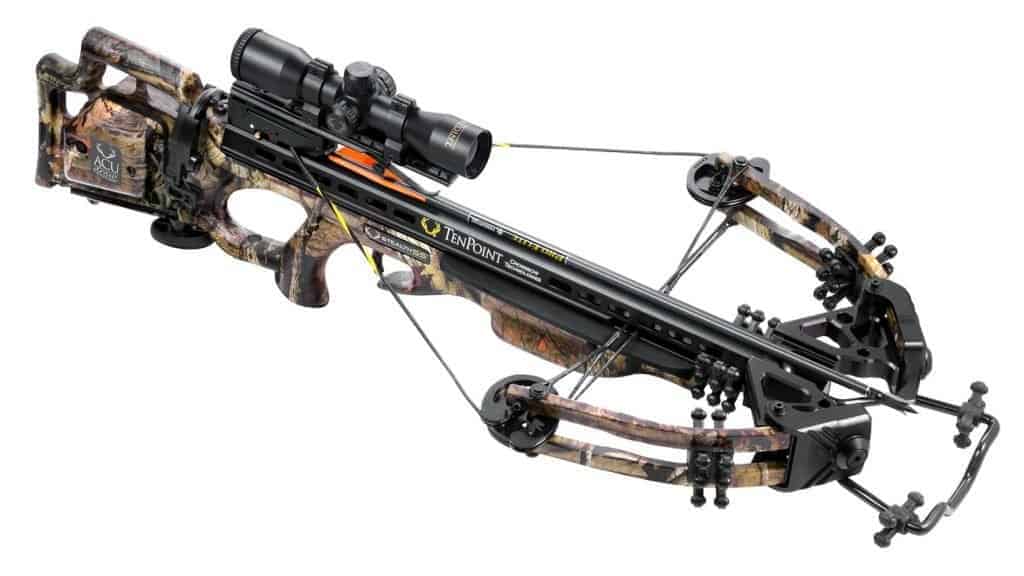 And the first rule on the first page of our rulebook is "Darryl Dixon's word is law", which means if Norman thinks crossbows are cool, we do too.
Truthfully though, as we were already die-hard target shooters before Norman started battling the undead, we'd already crossed paths with and fallen a little bit in love with the crossbow.
How could you not? They're the halfway house between firearms and compound bows that incorporate the best of both without falling prey to the drawbacks of either. 
We've always been tempted by crossbows and have always wanted to own one, and given that you're here, we're guessing that you are, and do, too.
But after finding out that we could get one for under four hundred dollars, we did a little research and finally bit the bolt and bought a crossbow. 
Before we bought our crossbow though, we found five of the best below our set price point and made our decision based on what we found out, and discovered, about them.
That's why we're sharing everything that we learned about the five best crossbows under four hundred bucks with you so that you can choose which of the five is the best crossbow for you.
It's time to be a little bit like Darryl, listen to Norman, put your hunting cap on, get your targets ready and find a crossbow
In a hurry? Here's our top pick.
We were already fans of Bear Archery before we discovered the Intense from their X division (we know it's not a real thing, but it makes them sound even cooler than they already are, so we're going to run with it), as we already own one of their legendary compound bows.
Founded by the father of modern archery, Fred Bear in the nineteen-thirties Bear has set the archery bar high with their bows so it only seems fitting that they'd do exactly the same with their crossbows. 
Delivering a top of the line speed of four hundred and five feet per second and a draw weight of two hundred and ten pounds, the BearX intense weighs just seven pounds and has an cocked diameter of eighteen inches and an uncocked width of fourteen inches, which in layman's terms means that it delivers way more punching power than you ever thought was possible at this price point.
The BearX Intense package comes with a cross-hair reticle scope, sling, front-mounted four-bolt quiver, three carbon bolts, the cocking rope, and the lubricating oil that you'll need to fit the rope to the bow.
It's literally everything that you'll need to load your crossbow and head into the woods or use it to start picking off targets in one handy box.
Pros:
The rear stock is fully adjustable, so it'll fit in your shoulder comfortably, while the safety is ambidextrous which makes it easier to aim and fire. It's little touches like this that make all the difference to your shooting experience.
Easy to set up, load, cock, and fire, the BearX Intense is an entry-level crossbow that long time bowhunters will adore for its simplicity and power.
It's almost silent thanks to its dual spring suppressor system, which cuts its firing noise to an absolute minimum.
Cons:
If you're making the transition from compound bows to crossbows, the BearX Intense can seem a little heavy at first which might throw your accuracy off. But bear (we know, puns have no place in the crossbow world and we should know better) with it as you'll soon get used to the heavier feel of a crossbow.
Bear X Intense CD Ready to Shoot Crossbow Package with Scope, Quiver, Bolts, Cocking Rope, and Wax, Stoke Finish, Black
Measures 10" wide cocked and 14" wide uncocked
Delivers intensely powerful performance in a compact platform
12.7" power stroke delivers hard hitting power at 400 feet per second
Last update on 2021-10-20 / Affiliate links / Images from Amazon Product Advertising API
Barnett has been leading the crossbow pack for more than fifty years, so they were bound to make an appearance on our list. Their White Tail Hunter is the model of crossbow perfection that's hard to beat.
While it's slightly slower than the BearX, it still produces three hundred and seventy-five feet per second of speed from a one hundred and eighty-seven-pound draw weight.
It might not have the same pace as the BearX, but the Barnett White Tail STR does weigh less (six a half pounds total) and uses finger safety reminders so you'll never shoot until you need to and it's fiberglass composite design makes it ideally suited to outdoor life.
Made to hunt, the STR comes with everything that you need to start tracking your prey straight out of the box – a multi-reticle scope, two twenty-two inch long headhunter bolts, a bow-mounted quiver, and one of Barnett's purpose-made rope cocking devices.
Pros:
Easy to assemble and use, the Barnett Whitetail STR is an ideal way for hunters to cross over from the world of the compound bow into the land of the crossbow. And it comes with absolutely everything that you'll need to make said transition smoothly and quickly.
The finger safety reminders are a godsend for hunters. They'll let you line up the perfect shot and ensure that you won't fire until you're ready.
Noted for its unfailing accuracy, the STR epitomizes everything that Barnett, as a brand, represents and is an ideal introductory-level crossbow.
Cons:
It isn't a hand-cranked crossbow, which means that you'll have to use the loading device every single time you want to use the STR. Another way of looking at the slight inconvenience of having to load the STR that way is that it'll help to instill and teach you, the patience and determination that all good hunters need to succeed in the wild.
BARNETT Whitetail Hunter STR Crossbow, Mossy Oak Bottomland
High-performance whitetail hunter STR compound crossbow in mossy oak bottomland with complete hunting accessory package. Specs: 375 feet per second, weight of 6.6 pounds, axle to axle width of 18.125 inches, dimensions: 34.875 X 20.125 inches
Lightweight: Fiberglass composite step thru riser with single bolt assembly and anti-dry fire trigger-tech trigger
No artificial flavors
Last update on 2021-10-20 / Affiliate links / Images from Amazon Product Advertising API
SA Sports are the new kids on the crossbow block. Established by avid outdoorsman Mark Ambrose just over a decade ago, who wanted to share his passion for hunting and love of the outdoor life with as many people as possible, SA Sports have quickly risen to the top of the hunting mountain thanks in no small part to their affordable, user-friendly crossbows.
Capable of firing bolts at up to two hundred and thirty-five feet per second from a draw weight of around one hundred and seventy pounds, this lightweight five-pound crossbow is the best hunting friend that you knew you wanted, or needed, until now.
With a rifle butt shoulder stock, a hand saver palm grip to ensure your fingers stay well away from the flight path, and ambidextrous automatic safety, the Empire Fever is the right bolt firing tool for the right hunting job.
You'll be able to hit the trail and disappear into the wilderness almost as soon as the Empire Fever arrives, as it comes with a purpose-designed crossbow scope, four aluminum bolts, a front-mounted quiver, and a padded shoulder bag to carry it in.
Pros:
The hand saver palm grip is something that only a hunter could come up with as only a hunter knows what a hunter needs. It makes the Empire Fever comfortable to use and adds a degree of accuracy that you probably didn't know you were missing.
Ambidextrous safety systems are big pluses in our book and always bump a crossbow up a grade or two if they feature them. Which the Empire Fever does.
It's a complete ready to hunt package in a box that's insanely affordable and serves as a testament to, and a reminder of, SA Sports core mission.
Cons:
The scope isn't up to much and you'll almost certainly want to replace it, which given the price you'll pay for the Empire Fever, you'll easily be able to do.
SA Sports 647 Empire Fever Pro 175LB Crossbow Package - 240 FPS Scope, Quiver, Arrows, Sling, Rope Cocking Device
Speeds up 235 feet per second, 175 pound draw weight
Includes a 4x32 crossbow scope, 4 aluminum arrows, a quick detach quiver, instructions, and a padded shoulder sling for easy transport
Equipped with a hand saver palm grip on a Picatinny rail and ambidextrous auto safety
Last update on 2021-10-20 / Affiliate links / Images from Amazon Product Advertising API
And we're back in the familiar embrace of Barnett for our next choice, the Jackal, We've already told you why we love Barnett and why we're fans of everything that they make, and do. so we'll spare you the gushing sentiment and move right on to the task at hand, telling you all about the Jackal. 
Another entry-level crossbow that serious hunters lust after, the Jackal will bring down anything in the woods with its bolt speed olf three hundred and fifteen feet per second that comes from its one hundred and fifty-pound draw weight.
Slightly heavier than a standard hunting crossbow, this seven, and half-pound behemoth more than makes up for weight with its stopping power.
Using a red dot siting system, the Jackal comes with amounted quiver and three twenty-inch bolts so after you set it up, get suited up, and get straight on with tracking, and bringing down, your prey. 
Pros:
The Jackal is a sturdy, incredibly durable, and easy to set up and use crossbow that will turn a novice into an expert in next to no time.
Accurate and fast, it'll bring down whatever you're hunting as soon as you get your first shot in. And it's more than powerful enough to bring even the biggest of beasts down.
The Jackal comes with a five-year warranty that'll give you all the peace of mind you'll need to put it through its paces and push it to its absolute limit,
Cons:
While it seems like the perfect hunting weapon, because it doesn't have a suppression system, it's a little too loud. And unnecessary noise and hunting, like Jack Lemmon and Walter Matthau, aren't exactly the best of roommates.
Barnett Jackal Crossbow Package (Quiver, 3 - 20-Inch Arrows and Premium Red Dot Sight)
Velocity: 315 FPS
Includes 3 arrows
Smooth 3. 5 lb. trigger pull
Last update on 2021-10-20 / Affiliate links / Images from Amazon Product Advertising API
We're venturing into slightly untested waters with the Hunter Sniper as we were originally pointed in the direction of this brand by a friend of a friend who swears by this crossbow.
Known primarily for making tools and fitness equipment, XtremepowerUS recently decided to expand their remit and try their hand at hunting and target shooting. And truth be told, we've been pleasantly surprised by the results. 
The Hunter Sniper's one hundred and sixty-pound draw weight produces bolt speeds of around three hundred and sixty feet per second, which is ridiculously fast, and if you're a hunter, incredibly welcome.
Featuring a fully adjustable stock and forward grip, this monster of a crossbow weighs in at a staggering twelve pounds. 
Another ready to hunt straight out of the box crossbow, the Hunter Sniper comes with three bolts, a bow-mounted quiver, and a rear scope.
And best of all? It only comes in Henry Ford and Chuck Norris's favorite color; black.
Pros:
The Hunter Sniper is an all in one package that'll have you heading for the hills to try it out within five minutes of setting it up.
It's unbelievably fast. Three hundred and sixty feet per second? That's enough to bring a grizzly down and stop an old Buick Lesabre dead in its tracks.
Cons:
The weight. It makes it bulky, and from a hunting perspective, not exactly desirable.  We honestly can't understand how the Hunter Sniper weighs twelve pounds. But it does, so if you swayed by the way it looks, think about how much it weighs and balance that against how long you're likely to be carrying the Hunter Sniper and what you're going to use it for.
XtremepowerUS Outdoor Hunter Sniper Crossbow 165 Lbs 380 fps Hunting Quiver Rope Cocking 4x33 Scope 3X Carbon Arrows Set
One of the most user-friendly & practical solution available on the market today for cocking a crossbow effortlessly and accurately
Fully adjustable stock and fore grip is able to adjust up to 0-2.5" for a customized fit to shoulder with confidence
380 FPS with Pin-Point Accuracy equipped with 20" length powered by speed-inspired, the bow assembly is built for bone-crushing speed with pin-point accuracy
Last update on 2021-10-20 / Affiliate links / Images from Amazon Product Advertising API
Buyer's Guide
What Is A Crossbow?

 
A crossbow is a ranged weapon similar to a bow that uses an elasticized rope launching system. Looking more like a rifle than a bow, a crossbow fires projectiles called bolts and traditionally the person using a crossbow has always been known as a crossbowman rather than an archer. 
Dating back to the fifth century BC, the first historically recorded usage of a crossbow was during the frequent battles that the constantly feuding states of ancient Greece used to fight with each other and in the numerous wars that Greece fought against its Middle Eastern neighbors. 
Popularised by the story's about Wiliam Tell, most notably the infamous tale of the apple being shot off the top of a not so willing accomplice's head, crossbows have found a unique place in modern culture and are favored by hunters as an effective weapon of choice. 
Why Do Hunters Favor Crossbows? 
Crossbows are favored by hunters because unlike rifles and firearms, they're quiet, the bolts they use, providing they're not damaged, can be reused and are simple to use and easy to carry.
Hunters also tend to like using crossbows as their effective range is far less than that of a firearm, which means that they have to get much closer to their intended prey to use a crossbow. 
What Is Draw Weight? 
The draw weight is the amount of pressure that you effectively have to use in order to pull back the rope of and cock a crossbow.
Because they require more pressure to cock than a traditional bow, most crossbows come furnished with cocking, or loading, tools, and systems that make them straightforward and simple to use. 
Which Crossbow Under Four Hundred Dollars Is The Right One For Me? 
That's where we can't help you, and it's a decision that you're going to have to make based on what you want to use a crossbow for.
Realistically, you're going to have to base your choice on weight, accuracy, and durability, as we're assuming that you're going to want to use your crossbow for hunting.
That said, if you were to ask which crossbow we chose from the list and which we'd recommend, then, in the spirit of George Washington's inability to tell a mistruth, we'd have to humbly suggest that you might want to invest your time, and money, in Bear Archery's BearX Intense package.
And with that, we'll wish you good luck in your crossbow adventure. Happy hunting!
Was this article helpful?