Archery is like a journey. It begins with a love for shooting a bow and a passion for watching arrows fly – Ron Laclair
Some things are eternal. They never get old and our love of, and for, them never withers or fades. While they may change with, and adapt to, the flow of history, they are fundamentally the same as they've always been.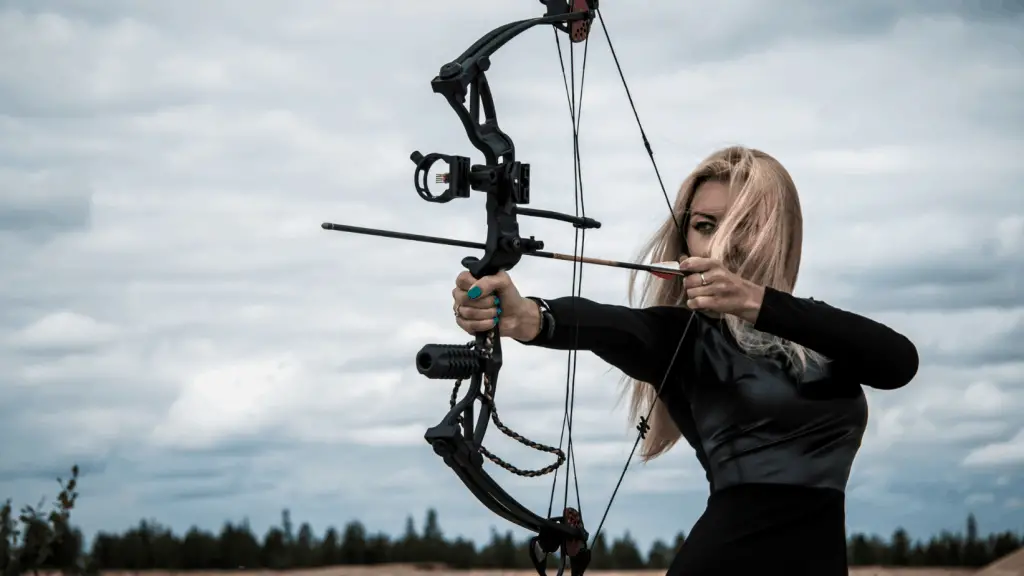 The world may have moved on, but our passion for and interest in archery has been constant for thousands of years.
Even though they're still the preferred weapon of choice for the modern hunter, the primary role of the bow and arrow has altered with time, as generations of competitive, target shooters have now embraced them.
This has led to archery becoming an Olympic sport and a global obsession that hundreds of thousands of people have devoted their lives to.
Whether you're new to archery, a die-hard hunter, or a long-time target enthusiast, you're almost certainly aware of compound bows and the multiple benefits of using one.
But if you've previously been put off investing your time and energy in a compound bow by their prohibitive price, then we've got good news for you.
You can now get a reliable compound bow, one that'll shoot straight and true for under three hundred dollars. That's why we decided to take a closer look at five of the best compound bows that don't break that price point.
We've taken that deep dive so that, if you're looking to change your bow of choice, you can do just that, safe and secure in the knowledge that the hit your pocketbook is going to take won't be dangerous and that every shot you make with your new bow will always be on target. 
In a hurry? Take a look at our top pick below.
Founded in nineteen thirty-three by Fred Bear, the father of modern archery and a member of the Bowhunters Hall Of Fame, Bear Archery is one of the most respected bow manufacturers in the world of archery.
The Cruzer Lite is their entry-level compound bow that is specifically designed with the younger hunter and target shooter in mind. 
With a top speed of nearly two hundred and ninety feet per second, the Bear Cruzer easily rivals the performance of higher-end compound bows, as its fully adjustable twelve to twenty-seven-inch draw length makes it an ideal choice for all hunters of all sizes.
Just because it was made with youngsters in mind, it doesn't mean that the Bear Cruzer Lite won't appeal to, and find favor with, archers of all ages and abilities. Trust in Fred and put your faith in Bear. They won't let you down. 
And in case you're wondering how it got its name, the Bear Cruzer Lite was named, rather appropriately because of its weight. Or rather, it's lack of weight.
At just under three and a half pounds, the Cruzer Lite is the perfect combination of balance, weight, and precision that will help any archer or hunter to master the art of the bow. 
Pros:
With a top speed of two hundred and ninety feet per second, the Bear Cruzer sets a benchmark to dare its competition to try and achieve.
It's light, which means that the Bear Cruzer is easy to get to grips with and, when you start using it, will be even easier to master.
Its twelve to twenty-seven-inch draw length and accompanying adjustable draw weight of between five and forty-five pounds makes the Cruzer Lite a serious player on the compound bow stage regardless of who it was designed to be used by.
Cons:
It's a youngsters bow, and while it can be effectively be used by just about any serious archer, there's no escaping the fact that it'll always be better off in the hands of juvenile and teenage hunters and target shooters.
Bear Archery Cruzer Lite RTH Compound Bow - Realtree Edge - Right Hand

Incredible versatility bow is adjustable from child to legend
Ready to hunt bow comes equipped with five Trophy Ridge accessories
Adjustable from 12 to 27 inches in draw length and from 5 to 45 lbs. peak draw weight
Last update on 2022-01-23 / Affiliate links / Images from Amazon Product Advertising API
A serious bow for serious archery enthusiasts and dedicated hunters, the all-aluminum Raptor is a versatile and durable compound bow that's precise and fast.
With a shooting speed of around three hundred and fifteen feet per second, a draw length of twenty-four to thirty-one inches, and an adjustable draw weight of between thirty and seventy pounds, the Raptor is a heavy-duty compound bow that weighs in at an incredibly light three and a half pounds.
The Raptor kit also comes with a five-pin fiber-optic sight, stabilizer, the Allen wrench that you'll need to set it up so that it's completely suited your individual shooting style, a four arrow quiver, and a couple of paper targets to enable you to perfect your Raptor set up.
The only thing you'll need to supply to start firing arrows with the Rapture is the arrows themselves.
Pros:
With a speed of around three hundred and fifteen feet per second and draw weight of between thirty and seventy pounds, the Raptor is an on-target compound bow that's a joy to use and a pleasure to slowly master.
Weighing in at just under three and a half pounds, the Raptor is a perfect lightweight introductory compound bow that first-timers will love and serious fanatics will adore in equal measure.
The Raptor comes with a heavy-weight lifetime warranty that Predator will honor no matter what. They're serious about their compound bows and they want you to take them as seriously as they do.
Cons:
The Raptor is a little too light for some hunters. If you like your bows a little heavier, the Raptor isn't going to win you over.
Raptor Compound Hunting Bow Kit: | Fully Adjustable 24.5-31" Draw 30-70LB Pull | 5 Pin Lighted Sight, Biscuit Rest, Quiver, Target, Peep Sight, Allen Wrench Set, Assembly Videos | Camo Right Handed

PERFECT PLATFORM – Whether you're a hunter, bowfishing enthusiast, or into target shooting… this incredibly unique bow offers the versatility for any enthusiast from adult, youth, and even beginner archers!
FULLY ADJUSTABLE – With an axle to axle length of 30" and weighing in at only 3.6lbs, the draw length ranges from 24.5"-31" and the draw weight can be adjusted from 30lbs-70lbs without needing a bow press!
HIGH QUALITY MACHINING – Both the cams and modules are fully machined aluminum with zero plastic. Compound design allows for 75% let-off and features a split yoke tuning system providing precise adjustments for proper arrow flight.
Last update on 2022-01-23 / Affiliate links / Images from Amazon Product Advertising API
The official bow of the NASP (National Archery in Schools Program), the Genesis Original is the perfect introductory compound bow for archers of all ages and sizes.
From children to adults, this compound bow is designed with everyone in mind and no-one can outgrow it as it doesn't have a specific drawback length and can be adjusted to suit whoever is using it.
With a relatively low speed of around one hundred and seventy feet per second, a standard twenty-pound, fully adjustable, draw weight and weighing in at around three pounds, the Genesis Original is the compound bow that's made to allow an archer to develop their skill set, and as you get better, the Genesis can be adjusted to follow your lead.
It's the only compound bow that most archers will ever want, or need. 
Made from aluminum and built to be accurate and durable, the Genesis kit that includes the compound bow also comes with an adjustable arm guard, a belt mountable quiver, five aluminum arrows, an owner's manual, and the hex wrench that you'll need to set your compound bow up.
Pros:
The Genesis is an all-ages compound bow that's designed to introduce everyone to the sport of archery and let them learn how to safely use a compound bow.
Made to be accurate and quiet, the Genesis is an ideal compound bow to learn how to hunt with and it's relatively lightweight means that it's easy to master and learn all the basic skills that you'll need to develop as a hunter.
It won't rust, no matter how long you spend outdoors or in adverse weather as it's made from aluminum which also guarantees that it'll be strong and durable.
Cons:
There really aren't any. It's an entry-level compound bow that most archers progress beyond and leave behind as they graduate to something more suited to their increasing skill level.
Sale
GENESIS Kit - RH Red

Official bow of the National Archery in the Schools Program (NASP).
Great starter bow for archers of all ages, sizes and athletic abilities. With no specific draw length requirement, kids can't outgrow this bow.
Includes a machined 6061-T6 aluminum riser, aluminum cam and idler wheel, sturdy composite limbs and high-strength bowstrings – all made in the USA.
Last update on 2022-01-23 / Affiliate links / Images from Amazon Product Advertising API
For thirty years Leader Accessories have been bringing the best of the outdoors lifestyle into the homes of America and their compound bows are made to be as easy to use in the wilderness as they are on the target field. 
With a maximum speed of three hundred and ten feet per second, a draw length of twenty-five to thirty-one inches, and fully adjustable draw pressure that varies between fifty and seventy pounds, this right-handed compound bow is an affordable and easy way to make the switch from using a traditional bow to using a compound bow. 
Leader Accessories have figured out what hunters and competition archers want and need and their compound bows come on their own or with everything that you need to get started and a one year warranty that covers every mishap and eventuality.
Pros:
Weighing in at four and a half pounds, the Leader Accessories compound bow is easy to use and even easier to get to grips with. It's impressive, and simple to adjust, drawback pressure means that it's also incredibly fast.
Featuring a cast-iron year-long warranty this compound bow is surprisingly affordable and will provide you with all the versatility, accuracy, and durability that you'll need at a price your pocketbook will be more than happy with.
Cons:
It's a right-handed bow, so if you're a left-hander and you're not ambidextrous, you're not going to be able to use it.
Leader Accessories Compound Bow Hunting Bow 50-70lbs with Max Speed 310fps, Black

Hand Orientation: Right. Draw Weight: 50 - 70 lbs. Draw Length: 25" - 31".
Max Speed: 310 FPS. Let Off: 75% - 80%. Axle to Axle: 31.5". Brace Height: 7.5". Weight: 4.4 lbs.
Aluminum Riser. Adjust the draw weight and draw length with enclosed Allen Wrench. No bow press is needed.
Last update on 2022-01-23 / Affiliate links / Images from Amazon Product Advertising API
It must seem like we're prejudiced toward and have something against left-handers, but we're really not and we really don't. And neither do AW, as they're just catering toward and for, the majority of archers.
If you're left-handed, you'll probably want to stop reading right about now, but if you're not then you really need to focus and pay attention because this just might be the right compound bow for you.
The AW is fast, and when we say it's fast, we mean it's really, really fast – it's three hundred and twenty feet per second fast.
That's the sort of speed that would make even the most cunning and hard forged hunters sit up and take notice.
And when that speed is combined with a fully adjustable twenty to seventy-pound draw weight and a draw length that'll stretch from seventeen to twenty-nine inches, you know that you've got a serious contender for a compound bow gold medal on your hands.
Pros:
Did we mention how fast the AW is? We did? Good, because we thought you might have missed the fact that it can produce speeds of up to three hundred and twenty feet per second. We're glad you didn't miss that.
It's adjustable draw length, draw pressure and three and a half pound weight make it an ideal compound bow for beginners, as it's light, accurate, and durable enough to let you easily learn, and master, everything you'll need to on your path to becoming an expert archer.
It comes with twelve aluminum arrows, so you'll have everything that you'll need to start down the path to archery excellence
Cons:
There's no warranty. What you see is what you get and that's about it. A compound bow and a set of arrows.
AW 70 Lbs Pro Compound Right Hand Bow Kit Arrow Archery Target Hunting Camo Set

[Camo Compound Bow Kit]: Includes a 20 to 70 Lbs right hand compound bow, release aid, target paper & 12 carbon arrows, perfect gift for beginners or masters; Camo color helps you better blend into your surrounding for hunting, bowfishing, target archery & more
[Premium Materials for Durability]: Aluminum alloy riser with high tensile can withstand high stress flexing & loading for long-term arrow shooting; Fiber bow strings are strong enough to support a maximum draw length to 29"; Fiberglass bow limbs with high toughness is not easy to deform
[Higher Aiming Accuracy]: 4-pin sight & peep installed for precise aiming, help you react quickly to a moving target, rheostat light maintains visibility in low & changing light conditions; Brush capture arrow rest offers clear view to the entire arrow & tip and reduces friction
Last update on 2022-01-23 / Affiliate links / Images from Amazon Product Advertising API
Buyer's Guide
What Is A Compound Bow? 
A Compound bow is a bow that uses a system of cables and pulleys to bend its limbs, which makes them stiffer, giving the user a mechanical advantage which in turn reduces the amount of physical strength that it takes to effectively use it. 
The higher rigidity and use of increased technology in the manufacture of compound bows also makes them far more accurate as they are far less susceptible to changes in heat, humidity, and atmospheric pressure than traditional bows are. 
Because they weigh less than traditional bows and take less physical strength to wield, compound bows have opened the world of hunting and target shooting to a much more diverse audience and are ideally suited to both pursuits.
What Is Draw Weight? 
Simply put, draw weight is the amount of pressure that it takes to use a bow. If someone says that they use a "fifty-pound bow" this means that the draw weight of the bow is around fifty pounds.  
Most entry-level compound bows have a draw weight of around twenty pounds, which means that they can be easily used by just about everybody.
Draw weights are an indicator of the pressure needed to use a bow, and the higher they are, the more strength you'll have to exert to use the bow.
Everyone has an ideal draw weight, you just have to find out what it is, and what amount of draw weight suits you. 
What Is Draw Length? 
Draw length is always measured in inches and it's used to indicate how far you can pull back the string of the bow.
The best way to measure your ideal draw length is to stretch out your arms on both sides and measure the distance from one to the other.
The number of inches of that measurement will let you calculate your ideal draw length, which you can then use to find the right compound bow.
You can use our easy draw length calculator

to find your ideal draw and arrow length.
Ideally, your draw length should be compatible with that of the compound bow you choose if you want to use it effectively. 
Which Compound Bow Is Right For Me? 
That's entirely dependent on a number of different factors. Are you new to the world of archery, target shooting, and hunting? What's your ideal draw length? How tall are you and how much would you like your ideal compound bow to weigh? And finally, how physically strong are you? 
Hopefully, you've now got all of the information that you need to effectively answer all of those questions and by doing so, will be able to find and successfully use the right compound bow. 
Was this article helpful?