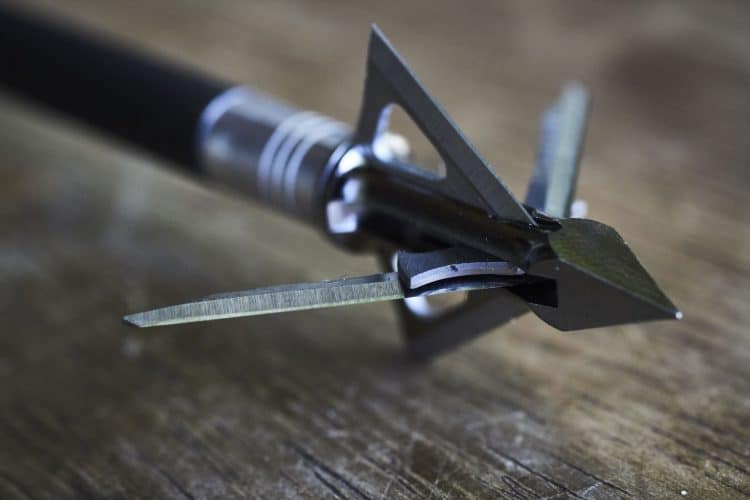 If you're elk hunting, you need to remember one thing above all else. Without your technology, the elk will probably win any fight.
That means you need a broadhead that can guarantee you maximum penetration and precise cutting power so that when you shoot it, the elk falls.
Without those two elements, you're just going to annoy the elk. Imagine something with the size and power of an elk when it's six beers in and you just talked about its momma.
Unless you can drop it flat, at that point, you're going to want to be able to run like an Olympian or fly like an angel because in those circumstances, nine times out of ten, you lose.
That's why, when it comes to hunting elk, you need the best broadheads available. Broadheads that give you the confidence of a guaranteed clean kill every time you shoot them.
Unless you want to become the hunter who gets hunted, you need the best broadheads for elk – and we have them right here.
In a hurry? Here's our top pick.
Maximum penetration? Check.
Cutting precision? Check.
A whole bunch of other features that set them apart from the crowd? Check.
The Muzzy Bowhunting 3-Blade will probably already be known to you unless it's your first time hunting elk. In which case, welcome to hunting elk, here's the Muzzy Bowhunting fixed blade. You're gonna love it.
You're gonna love it because it's made of stainless steel with an anodized aluminum ferrule. That means you get a set of re-usable broadheads with a high enough and strong enough metal content to give you effective results time and time and time again – assuming you can hit a target as big as an elk. If you can do that, the Muzzy 3-Blades fixed broadhead will see you right for a long while.
More importantly, they give you that exceptional penetration you need with their 3-sided blades and hollow ground design. The blades are each 0.2-inches long, and each fixed blade broadhead has a cutting diameter of 1-3/16″.
If you hunt Other Things and elk, it can be a pain to remember which broadheads you should use for which prey.
The Muzzy 3-Blades, though, go some way to becoming a complete hunting system, because while the 100 and 125 grain will stop your chosen elk in its hopes, dreams, aspirations, and most importantly, tracks if you go down the grain scale to 75 grain, you can effectively use the same style of broadhead to kill smaller pretty without turning them into animal soup when you hit them.
And finally, the 3-Blades are available in packs of six if you're taking down six elk in a hunting session; good on you.
For the stopping and cutting power they deliver, a six-pack of Muzzy 3-Blades is well-priced and lets you contemplate building up your quiverfull without breaking your bank. Stopping power, cutting power, reusability, and value for money. All you need to do is bring a bow and shoot straight.
Pros:
Superior cutting power with 0.2-inch blades
Hollow-ground design for maximum penetration
Make sure of dropping your elk with a bone-penetrating steel tip
Versatility of shooting assured through 75-125 grain broadheads
Allows for a variety of kills with a 1-3/16″ cutting diameter
Cons:
These are broadheads it's worth building up to, rather than newbie-friendly heads
Sale
Last update on 2022-01-23 / Affiliate links / Images from Amazon Product Advertising API

The G5 Outdoors Montec Broadhead is the stuff of movie hunters. You fire it, you kill your elk, you check it, you clean and re-sharpen it, and back it goes in your quiver, ready for next time.
Designed as a single piece and built from solid stainless steel, it's worth noting that they come to you pre-sharpened, so you're going to want to fit them with care.
Care and possibly gloves because they're razor-sharp. That sharpness, the strength of stainless steel, and a cutting diameter of 1″- 1 1/8″ mean they'll give you the elk-stopping power you need when it matters.
An extra useful feature is that the G5 Montec broadheads are factory-tested for flight characteristics like spin to give you a more trouble-free shooting experience.
They're available from 85-125 grain, too, making them the end of days for a variety of prey, don't just elk.
Sharp, strong, reusable, and with that resharpenable cutting edge, the G5 Montec broadheads let you trust in your elk-dropping power, hunt after hunt.
Pros:
Solid stainless steel construction delivers highly durable shooting
Resharpenable blades mean every shot can be as good as the first
Factory-tested for spin, so you get smoother, faster, truer flights
Range of grains means you get versatility of target
Cons:
Coming pre-sharpened means you need to take extra care when fitting the heads
Comes in a 3-pack, which delivers less value for money than some broadheads
G 5 Outdoors Montec 1-1/8-Inch Cut Broadheads (3-Pack), 125 Grain

The blade angle is designed to allow for repeated maximum penetration and devastation.
One-Piece Metal Injection Molding Construction, with no parts needed to replace or maintain. This broadhead is easy and simple to use, simply screw on and shoot.
Due to the strong tapered blade design's and angle it allows the Montec to be easily re-sharpened.
Last update on 2022-01-23 / Affiliate links / Images from Amazon Product Advertising API

We know – our list-leading broadhead was a Muzzy 3-Blade. What gives?
Well, the Muzzy Trocar is a different proposition, but it's still good enough in its own right to take our number #3 spot.
What's the big deal? The Muzzy Trocar 3-Blade gives you a hardened trocar tip and a solid steel ferrule. That means if the head hits bone – bone blinks first. Kinetic energy where and when you need it, and a hardened tip that won't deform on impact, no matter where you hit the elk. That's worth money to a bowhunter.
Specifically a 100-grain head, it's less flexible and less of a system than the Muzzy broadhead that takes our top spot, but a respectable cutting diameter of 1 3/16-inches gives you cutting power where it counts, on top of that sledgehammering trocar chisel tip.
You get excellent arrow stabilization with the Muzzy Trocar 3-Blade, too, with 0.035-inch right-helix fixed blades. What does that mean? It means firing the Trocar 3-Blade is pretty much like firing a sharpened bullet – it stops for nothing, flies as true as you need, breaks bone if it hits it, and gives you the cutting power for a kill-shot when faced with elk.
It's not our list leader, but it's a very competent broadhead if you're hunting elk next season.
Pros:
A hardened Trocar tip gives you bone-crushing power
A solid steel ferrule means the broadhead won't deform on impact
Flight stabilization blades mean a truer shot on target
The cutting diameter means sharp cutting on impact
Cons:
Less flexibility in grain means this is a one-use broadhead
Muzzy Trocar 100 Grain 3-Blade Broadhead – 3 Pack, Multi, One Size

Country Of Origin : United States
The Package Height Of The Product Is 1.25 Inches
The Package Length Of The Product Is 9.6 Inches
Last update on 2022-01-23 / Affiliate links / Images from Amazon Product Advertising API

We've said that cutting precision is one of the biggest things to look for in broadheads for elk. We're right about that, which is why the Rage Hypodermic NC 2-Blade makes it onto our list of the best broadheads out there.
What are we talking about? The Rage Hypodermic has a cutting diameter of 2 inches. Never mind your 1-inch or 1-and-some-fraction-inch diameters. 2 inches cutting diameter. No waiting.
The 100-grain broadhead means it has the penetrating power to take on elk with no problem. And it has some pretty vicious 0.035-inch swept-back angled blades to get in and do the job the first time.
Those blades are what give it its 'hypodermic' name, and they'll cut through flesh, hide, and even bone, as long as your aim is true. A machined stainless steel ferrule means deforming on contact is not a worry you have with this broadhead.
And that machined precision also helps deliver it where you need it to be, aiding its aerodynamics and taking it further in flight than some other broadheads.
Surely though, you run the risk of premature blade deployment? Usually, yes, that would be something to think about. With the Rage Hypodermic NC 2-Blades, though, you get a no-collar blade-retention system that stops your blades from deploying prematurely.
With a hybrid tip that delivers penetration into flesh every time it hits, the Hypodermic broadheads are about as fail-safe an option as you could wish for.
Pros:
Wider cutting diameter means more certainty per shot
0.035″ swept-back angled blades cut through hide, flesh, and bone
Extra distance and aerodynamic certainty through machined stainless steel ferrule
No-collar blade-retention system prevents premature blade deployment
Cons:
Available only in a three-pack, which is a value for money concern
Only available in the 100 grain version, limiting your focus to elk
Sale
RAGE Hypodermic NC 2-Blade 100gr Hunting Broadhead (R38100), Hybrid Tip, No Collar Blade Lock.035" Thick Swept-Back Angled Blades with a 2" Cutting Diameter, Machined Stainless Steel Ferrule, 3-Pack

PRECISION - Rage broadheads are known for their pinpoint accuracy, extreme penetration, and their wound channels are legendary
SUPERIOR AERODYNAMICS – This broadhead sports a machined stainless steel ferrule for superior aerodynamics
PINPOINT ACCURACY - The Hybrid Hypodermic tip design of this broadhead gives you the pinpoint accuracy of a leading edge design with the added penetration of a chisel tip
Last update on 2022-01-23 / Affiliate links / Images from Amazon Product Advertising API

Yep – feel the Rage. While the Hypodermic would get our vote ahead of the Rage 2-Blade with Shock Collar, the Shock Collar version delivers some key benefits to limit your blood trail game.
The 2-inch cutting diameter of the Hypodermic is the key to the success of Rage's most modern broadheads. By making a giant hole on the first impact, they maximize the potential damage done with that first shot.
While it's less a certainty than with some of the higher-placed bone-crushing broadheads, there's every chance that if you hit an elk with the Rage Shock Collar broadhead, it will go down more or less there within sight.
That's got to be worth looking at, given the unpredictability of prey in pain. It's also, arguably, more humane than some broadheads that leave you with a longer blood trail to track.
The Shock Collar helps minimize the suffering of the animal while at the same time giving you an easier, more satisfying one-shot potential kill.
You know most of what you're dealing with in the Shock Collar broadhead. You get that relentless 2-inch cutting diameter on a 100-grain broadhead with a cut-on-contact chisel tip hybrid to punch its way through hide and flesh on contact.
The Shock Collar technology at work here means you can get better results from less precise shots, too, as the blades deploy on less forceful impact and can start making the wound channel that will make the difference to your hunt.
The Shock Collar broadhead took the crossbow world by storm on its launch, and it's still an impressive addition to your hunting game today.
While it's in last place on our list, it's worth remembering that our list gives you the five best broadheads for elk in a very crowded market.
Everything here is worth considering, and the ease of shot, the impressive wound channel, and the Shock Collar technology makes the Rage 2-Blade Shock Collar broadhead worth a place in anybody's quiver.
Pros:
Shock Collar technology deploys blades on lighter contact, making the most of questionable shots
The cut-on-contact chisel tip punches hard through hide and flesh
The 2-inch cutting diameter makes your kill swifter and more certain
Cons:
Only available as a three-pack, which caps the value for money of the broadheads
Last update on 2022-01-23 / Affiliate links / Images from Amazon Product Advertising API
Buyer's Guide
When you're buying broadheads to hunt elk, you need to keep several things in mind.
To Elk, But Just To Elk
Make your mind up whether you want dedicated elk broadheads or whether you're looking to fit out your quiver with broadheads with lots of the same features, but at a range of different grains, so you can take down other, maybe smaller prey with the same certainty.
The critical reason is that you'll pay more for broadheads with a range of available grains than you will for single-grain, dedicated, elk-specific broadheads.
Remember, the elk is a stubborn, thick-hided animal. If you're hunting it with broadheads, you want a higher grain, you want lower compression, and you want anything and everything that can help you make cleaner, faster kills.
All that is worth paying out for. Decide whether, on top of that, you need to pay for broadheads in a range of grains to help you bag smaller prey en route to the elk you want.
Don't Skimp On Circumference
The cutting circumference of your broadhead makes a world of difference to your hunt – and probably to the ending of the elk's life, too.
When it comes to cutting circumference, go at least reasonably big, or go home.
Reusable Broadheads Add To Your Economy
We live in a recycling, reusable world. When it comes to elk-hunting broadheads, paying a little extra to get broadheads that don't compress on impact or with blades that can be re-sharpened only makes economic sense.
You're paying for whatever you shoot. If you only have to pay once but can shoot the same broadhead time after time, that's economy, recycling, and bow sports coming together in a way that saves you money and resources.
Frequently Asked Questions
How important is the cutting diameter of a broadhead?
Hugely important. You kill animals with a broadhead by causing internal damage and hemorrhaging. That means the bigger the wound channel you can deliver in a single shot, the faster (and less distressing) the kill.
A wider cutting diameter gives you a wider wound channel. That's more hemorrhaging per shot, a faster kill, and less blood trail tracking for you.
How important is penetration power in an elk-hunting broadhead?
Equally important. Remember, elk hide is impressive stuff. And an elk is a remarkable animal head to toe, so ideally, you don't want to be incredibly close when you take your shot.
That means you need a deep penetration power to a) get through the hide from a distance, and b) deliver the broadhead through flesh, to maximize the hemorrhaging.
Can I shoot broadheads in the same way as a field point?
Well, you can, but you're going to a) lose a lot of arrows or bolts, b) scare but not kill a lot of elk, and c) feel pretty foolish all the way home. Shooting broadheads is a different prospect altogether to shooting field points.
There are different aerodynamics in play. Ideally, never take a new broadhead out untested. Get used to the way your new broadheads affect your aiming point, your angles, and even your breathing before you dare try them out on an elk.
Was this article helpful?